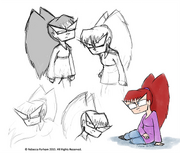 Nacie is a reoccurring character in Rebecca's videos, usually older animations and animatics.
Description
Appearance
She appears to have red hair with a ponytail, she has blue eyes with an unusual eye shape, she wears a purple shirt and blue jeans.
Personality
She isn't usually smiling. Despite her being friends with Rebecca, she treats her in a somewhat edgy mood, as that is her personality.
Role in videos
Her role is to be Rebecca's friend to talk with.
Relationships
She has a love-hate relationship with Rebecca. Even though they are friends to each other, Nacie sometimes gets annoyed from Rebecca, even though Rebecca always likes her.
Appearances
Quotes
You always piss me off.
Nothing overlooked.
Yes a very suitable channel warming party. Now forgive me for asking a candid question but doesn't one usually invite their viewers to a channel warming party?
Trivia
Nacie is a fictional character, because she was portrayed by Rebecca.

However, it is possible that she is based on a random person.

Nacie was once the name of Rebecca's main Twitter account, until she changed it later to RebeccaParham when she uploaded YouTube Rewind, PAX South and more.