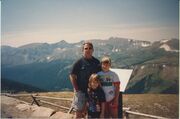 William Michael Parham, also known as "Mike Parham", was a minor character who appeared in multiple videos, the husband of Ann Parham, and the father of Rachel Parham, Rebecca Parham and David Parham. He was also the CEO of the Parham Group, for self-storage.
Description
Appearance
He seems to be a tall but slightly overweight, somewhat old man who had brown hair and before his death, gray hair. He has blue eyes, too, and wears varying clothes when shown in Rebecca's videos.
Personality
He seemed to be a guy who had interest in several things, such as music, fishing, Indian dance and Disney World, which is why Rebecca has some of her interests inherited from her father, which are singing and going to Disney World.
Role in video
In Ode to Dad, he didn't really do anything, but in fact, Rebecca has sung a poem to him.
In Father's Day Video & Inside Out, the fact that he died was mentioned.
In Crotchety Storage Lady he had no role, other than asking his wife about self storage.
In Draw My Life, he didn't do much, other then talking to Rebecca Parham for applying to an animation college and creating a company. Moreover, his death was mentioned in that video.
In Stole Mom's Credit Card to Buy N64, he had no role. He just made a cameo appearance.
In Backyard Stories, he was angry at Rachel, but then said that hitting the window with a baseball bat accidentally is normal for a kid for the first time. Also, he was unhappy at Rebecca for swelling David's face.
Relationships
Rebecca, Rachel and David Parham
Since Rebecca, Rachel and David are all his children, he loves them so they have a good relationship with each other.
Ann Parham
Since Ann Parham is his wife, he loves her and has a husband and wife relationship with her.
Appearances
Death
In Draw My Life and Father's Day Inside and Out, his death was mentioned. On November 18 2014, he died at 9:30 am, due to a heart attack. In a meeting morning, he was starting to have chest pain, and when his daughter took him to the hospital, he died at that moment. 12 days later, there was a memorial service for him, though this was never mentioned in the video, but could be found from other sources.[2]
Trivia
References