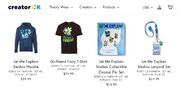 Rebecca Parham's merchandise
, also called the
Let Me Explain Studios merchandise
, is a set of Rebecca Parham ordinary collectables, starting on November 21, 2018. This is the second time Rebecca Parham is selling merchandise.
This collection was advertised on her Twitter and her Pin Theatre video.
Name
Image
Price
Official description
Notes
Let Me Explain Studios Hoodie

$39.99
Hello my Geeks and Peeps, my Explainers and Entertainers! Do you want to show off just how great it is to be one of my little oodlelallies? Now you can with the official Let Me Explain Studios hoodie! Very warm and soft to the touch, it's perfect for the winter season or surviving a housemate that likes things bitterly cold. Show your Explainer pride in style and comfort!
The "Explainers and Entertainers" tag can be found on the back of the hoodie.
Girlfriend Fairy T-shirt

$19.99
Do you want a girlfriend? Maybe a boyfriend? We all want to be loved! Though you may want to be careful when it comes to the Girlfriend Fairy. She takes her role as matchmaker a little too seriously. Wear this delightful Girlfriend Fairy t-shirt and maybe a bit of her magic will rub off on your love life!
Let Me Explain Studios Collectible Enamel Pin Set

$14.99
Round out your pin collection with a 5 piece Let Me Explain Studios pin set! Featuring your animator host Rebecca, the yipping dog Fifi, a hardy LMES logo, a VidCon Rebecca doll with her pretty blue badge, and of course the very enthusiastic Girlfriend Fairy! These pins practically explain themselves!
Let Me Explain Studios Lanyard Set

$12.99
I love wearing my name around my neck, don't you? It makes a statement! It says, "HEY! My name is...!" And now, there is an official Let Me Explain Studios lanyard for all your statement making needs! Perfect for geeky conventions, school IDs, or any social situation where you want to look important! It comes with a Girlfriend Fairy lanyard charm that can double as a key chain as well as a badge holder insert that is actually a fancy sticker!
Over The Garden Wall Poster

$7.99
First it was a speed paint video, and now by popular demand it has been made into a poster! Inspired by the series Over The Garden Wall and featuring YouTube animators theOdd1sout, JaidenAnimations, SomeThingElseYT, and yours truly, this illustration is a handsome edition to any bedroom, dorm room, jail cell, or cave wall!
It's the drawing from the video Drawing Animators into Over the Garden Wall. Dimensions: 17" x 11"
Ghost Story Glow in the Dark T-Shirt
thumb]]
$19.99
Search

Search our store "Close (esc)" Home / Let Me Explain Studios by Rebecca Parham / Ghost Story Glow in the Dark T-Shirt REBECCA PARHAM, LET ME EXPLAIN STUDIOS Ghost Story Glow in the Dark T-Shirt Regular price $19.99 SIZE XS S M L XL 2XL 3XL Some of us have simple dreams, like living in a creepy treehouse and being called "the witch of the woods" by the local kids. For anyone who has ever wanted to live on in spooky infamy, there's now a t-shirt for you! Inspired by the video "Backyard Stories," this glow-in-the-dark shirt is an excellent way to show others you have big plans for your afterlife!

For optimal glow, make sure to expose front of t-shirt to a light source like the sun or an indoor lamp. Do not hold closer than 2 feet from light source.

This is a limited edition item. It will not be restocked once it sells out.
It is a reference to a quote she made from Backyard Stories.
It was released after the other Let Me Explain Studios merchandise in this category.
External Links